3 months I was in Asia. I had my start in Vietnam and travelled there a month, visit some other countries and finished my trip in Bangkok. No idea I had what to expect from all this travelling. Quitting my job and start my long term holiday / sabbatical / unpaid leave / gap year or whatever you want to call it. Everything was exciting and thrilling. It looked adventurous to just freeze my life in the Netherlands and do something completely different as what I was used to do for the past 10 years. Get out of your comfort zone and explore and experience different cultures and environments.
The first weeks felt as a holiday. You know, the time you are off work and just enjoying some scenery other than just your office space with computer screen, desk, chair and the coffee from the coffee machine which never seemed to serve the coffee the right way you want it. Two weeks away became three weeks abroad. Three weeks became four weeks. And after one month I took a flight to another country, Indonesia. It was then that I realized I was really off and detached from my regular life which I was so used to live. Now I was free to go wherever and whatever I want to do. Initially I planned on being away and abroad for at least 6 months.
My brother announced he was getting married and asked me to be best man. Not that it wasn't an honor but I wasn't quite enthusiastic about it when he announced the exact wedding date. It was right in the middle of my travelling. Trapped myself within the emotion feeling of being excited and confused. 'Wasn't he supposed to get married some time later in the future? After my trip!' I did accept the invitation of course. I once advised someone to go home and attend his sister's wedding in Cambodia above traveling around Europe. So it would be selfish if I didn't do the same. Basically being home for the wedding would break up my trip in two parts. I would be away and around in Asia for 3 months. Come back home for one month and leave The Netherlands again for at least another 3 months.
When I was packing my backpack for the first 3 months I really had to make decisions on what to bring. I only had a 45 liter backpack and it was a slim model: Deuter 35 + 10 liter SL. My goal was that everything should be able to fit in that 45 liter backpack including the foldable daypack and content I would carry on daytrips. I didn't want to look like this overloaded backpacker with a huge bag resting on his shoulder and a big daypack carrying in front of him. I did succeed! Everything did fit! And there was still a little tiny bit of space left for some extra's I could buy on the way.
When I arrived for departure at the airport and I checked in my bag at the checkin counter, the total weight was about 12 kilograms. Wow! quite a light traveler.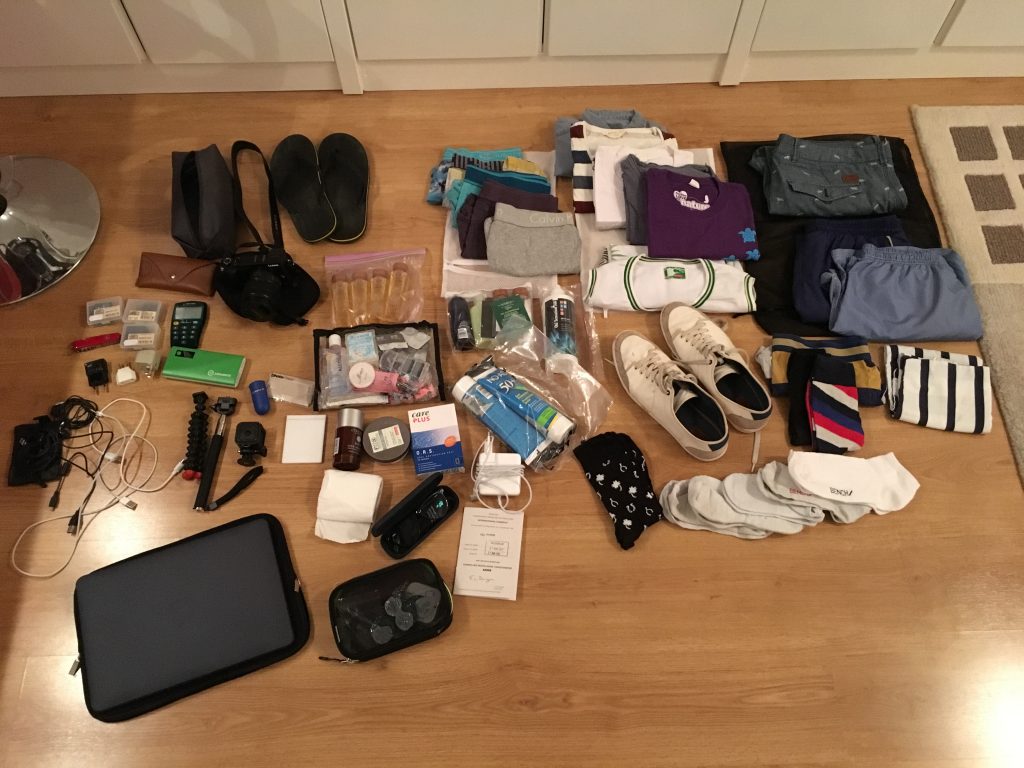 So what did I bring?
The essentials: 6 boxershorts, 5 pair of white socks, 4 t-shirts, 1 trouser, 1 short, 2 swimming short, 1 pair of flip-flops
Less essential: 1 shirt, 1 extra pair of shoes, 3 pair of colored socks. (Lets say for parties, bars, clubs and other gatherings required more formal clothing)
Daily care: 3 small bottles of douchegel, 2 small bottles of showergel, 2 types deodorant, half a liter of sunblock, hairwax, aidband, disinfection gel, ORS rehydration salt, contact lens liquid, contact lenses (monthly and disposable), cotton buds, toilet paper
Electronics: powerbank, camera, laptop, USB cables
Lightweight foldable daypack.
When I came back home three months later, all these extra's came out of my bag:
5 tailored shirts, 2 ties, 2 watches, 2 boxershorts, 2 tanktops, 1 swimmingshort, 5 t-shirts, 2 shorts, a lot of receipts, tickets and tourist information, coffee and tea from hotels, notebook, a wok(!), soapbars, incense, basilseeds, currypastes.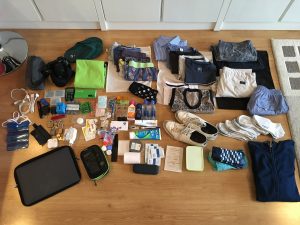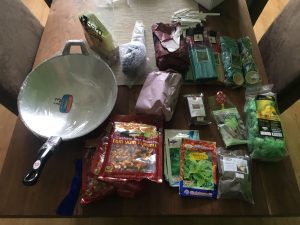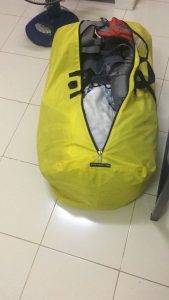 Hoorah to my flight bag!, I bought a bright yellow flight bag to protect my backpack and all the straps while being on the move from the airport to the plane and back. That awesome yellow bag I have which I so easily can spot on the baggage belt. It was very handy to stuff up with all other items you find on the way which can't fit in the backpack anymore but still can be hold on by the flight bag.
O yes! Most of the souvenirs I bought and gathered in the last weeks of my travelling when I was in Bangkok waiting for my flight back home. That little tiny bit of space which was left at the beginning of the trip was quite soon gone when I bought some shirts and shorts.
In the third week of my trip, when I was in Hoi An, Vietnam, I was so frustrated. I did see lots of things I wanted to buy but just couldn't. I didn't had much space in my backpack and did not want to stuff that little tiny bit of free space already with souvenirs I wouldn't use for the remaining time of the trip.
Looking back on my decision, it was not bad to break my trip in two travels. The wedding back home was great and had a good piece of fun. One month back home felt like a holiday too. Now time has come and I've packed for my second part of my trip. Some things I barely used during my first trip I've left out.
A book: I haven't read a single letter in it. I don't have time nor make time to read a book. Sunglasses: I don't want to wear sunglasses when I'm always on the spot for a nice picture or simply want to enjoy the environment.
Pillowcase: In case I would get in to a really filthy disgusting hostel and wanted to keep my head and hair clean. Well. Doesn't make sense, just hope for a shower in the morning.
Shower gel and shampoo: Basically there are convenient stores everywhere means it shouldn't be to hard nor expensive to find skincare products when you run out of it. No multiple bottles of the same for me.
Deodorant. One bottle is fine. When empty get a new one.
Sunblock. Although this one is expensive in Asia, I did cut it to one tube this time.
With just 7kg I checked in at the airport and took off to Guangzhou, China. Earlier in march, when I had a stopover at Guangzhou airport on my way to Vietnam, I was astonished about the Chinese behaviour and communication skills on the airport and not in a good way.
With that in mind it's time to get ready and explore China!