After Singapore and a few days spend in Kuala Lumpur, I decided to go to Chiang Mai. There I found a nice hostel in the old city. In the dorm room I stayed in there was a girl who told me here activities of the past days. She went to a cooking class the previous day and was quite enthusiastic about her experience with the cooking school she went to. A full day course, cooking five meals and receiving a recipe book as a little gift. I knew the concept of cooking schools. I've seen some in Vietnam, but never actually took part in any. No time, or I rather find them expensive. When you are walking around in Chiang Mai you will see quite a lot of cooking schools. Putting the previous arguments aside, and being a bit curious about it, I decided to take part in a cooking class. I applied for the same cooking school as my roommate: Thai Farm Cooking School.
On Monday morning 8:45 a minivan shows up. It displays the logo of the cooking school. A girl steps out and welcomes me. After I take a seat in the van we drive off to a few other hotels and guesthouses to pick up more participants. In total we are with nine people when we leave Chiang Mai city and go to Ruamchok market. It's a good 25 minute drive from the city. We all get out at the market and the girl who picked us up introduce herself as Yummy, our cook for today. Her real name is Yin, but she says is to difficult for people to remember and Yummy, the English synonym for delicious, everybody knows. She brings us to the market where she explains about the different types of rice we will use today. Sticky rice, Jasmine rice, brown rice, and water/rice ratio, and how to cook them properly. Every rice needs a different water/rice ratio and sticky rice is made with steam. Also the fish sauces and oyster sauces are introduced and different types are shown. After this short introduction on the market and given some time to walk around ourselves we head off to the cooking school.
The cooking school is far out from the Chiang Mai city. They have build some wooden houses, in which the cooking class is given. Outside we do have a nice terrace with a roof, which means we can sit outside after cooking, tasting the results of what we make.
After we arrive on the farm and all get out of the van, some tea with lemongrass is served on the terrace. Shortly after Yummy brings us to the garden and explain more about the ingridients we are using today. In the garden many herbs are growing. Lemongrass, Sweet basil, Thai basil, Lime, ginger, eggplant, cashewwnuts, pineapple. Basically all the herbs we are using today are for display here on how they look.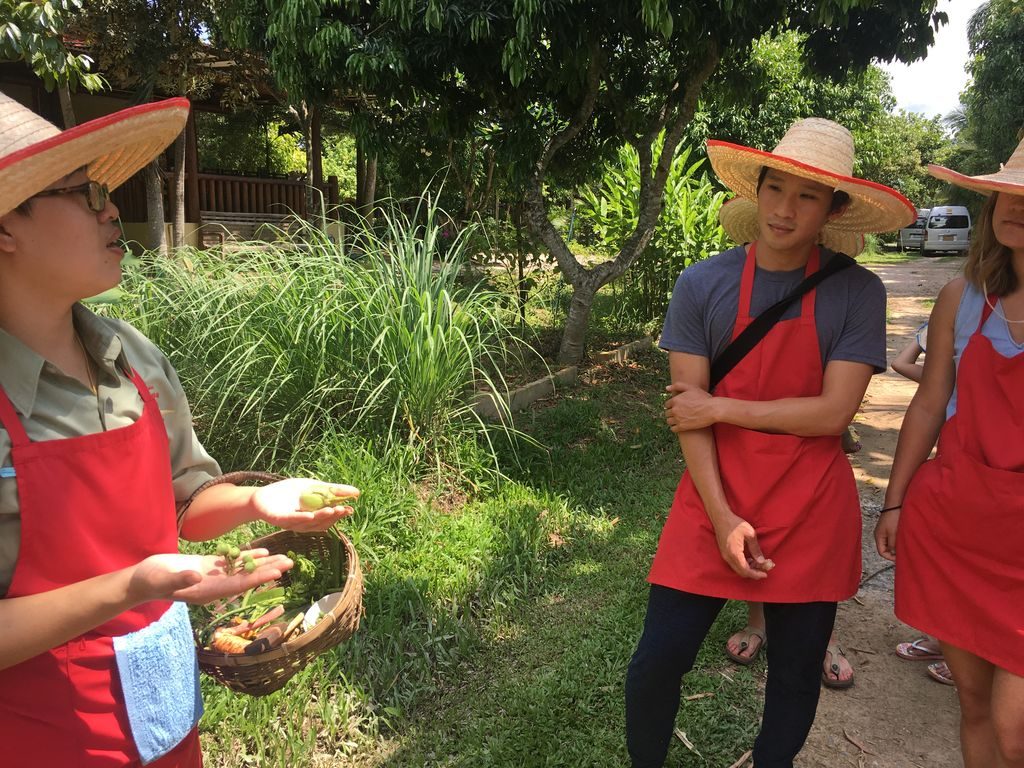 We start the cooking day off with making a red curry. At 10am I find myself above a molar grinding coriander and cumin seeds together with red pepper, union and garlic. We are making the paste early morning since this is the most intensive task, grinding. After 15 minutes it is all paste I see in my molar, and it smells good too! I'm happy with the result and, despite the workout I did with the pestle, because its early morning, I don't sweat too much yet. When I look on the left I see my neighbour. He also finished his paste but I notice he suffered more than I did. It looks like he run half a marathon. He's completely wet on both sides of his shirt.
We put the curry paste aside, and the first dish we are making today is a Tom Ka Goong (coconut soup with shrimp). We are all gathering around the stove of Yummy and she shows us how to make the soup. With her funny pronunciation, most of the time leave out the prepositions, and jokes. A lot of talk and here souplicity and within 10 minutes she has the example of a Tom Ka Goong ready. She gives the soup a final touch with some leaves of sweet Thai basil, some slices of red pepper and a few drops of coconut cream. 'Makes it look more expensive' she says. Her soup is ready to serve. After the demonstration we all return to our cooking stations and copy Yummy with the exact same steps. Within 15 minutes I pour the soup from the pan in my bowl. Immediately questioning myself why it always takes me so much time to cook such a dish at home. When we bring out the soup to the terrace and try it there it does have a great taste. After a short break we make some spring rolls, eat them and have a break again.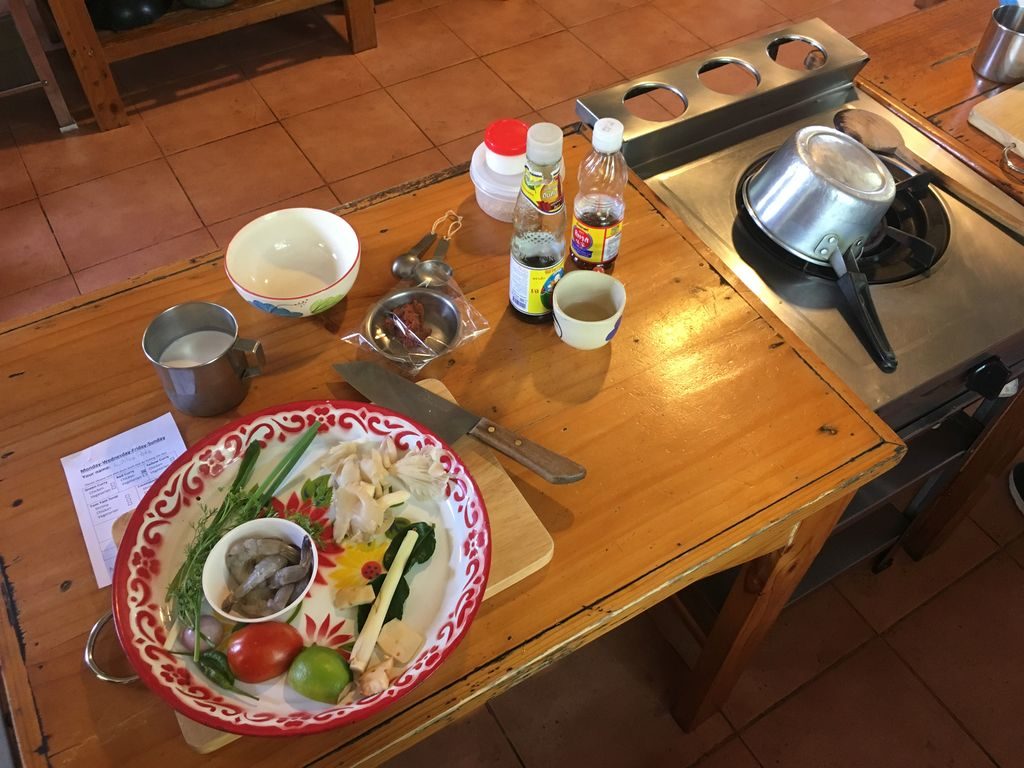 In the midday we are making the curry. At home my curry takes forever, but here I seem to be able to make a delicious curry within 15 minutes. Oké, the vegetables are already there 'Mise en place' style, cleaned, pealed and ready to cut in portions for the dish.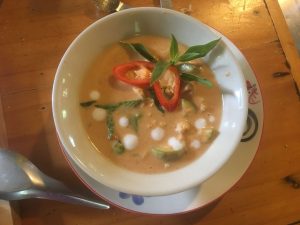 In total we made 5 dishes: Red curry with chicken, Tom Ka Goong, stir fried chicken with cashew nuts, spring rolls and sticky rice with mango. It was quite an educative and informative day. Not that I didn't know how to cook, but Yummy gave some helpful tips and tricks on how to cook it simple but still make the dish taste delicious and make it look classier and expensive ;). When we said goodbye in the midday, everybody received a small booklet with all the recipes from Thai Farm Cooking School. Yummy signed all the books with her name. Which was very cute.
I would recommend anyone to visit this cooking school since the lessons are detailed and each individual will have all the kitchen tools and ingredients. One side note to myself. Next time I would make notes and record the exact steps when cooking. When I got home and try to repeat the exact same steps and tricks, I somehow had difficulties with it because the recipe book described it a little bit different than Yummy showed us.