I wasn't interested in staying in Guilin for too long. As described in the previous post the city wasn't that much vibrant and I had some other places on my wishlist. From Guilin I did want to go to Yangshou, visiting Xingping on the way. Yangshuo is described in many travelblogs as having beautiful sceneries, karst peaks, rivers, caves and temples, and for that or another mysterious reason it attracts a lot of backpackers and tourists. Xingping is described as an authentic city, not as clean and developed as Yangshuo, but with a few historical buildings and direct access to the Li river it's a must to pass by. Also here is the karst scenery, peaks of the mountains on the 20RMB note are from here.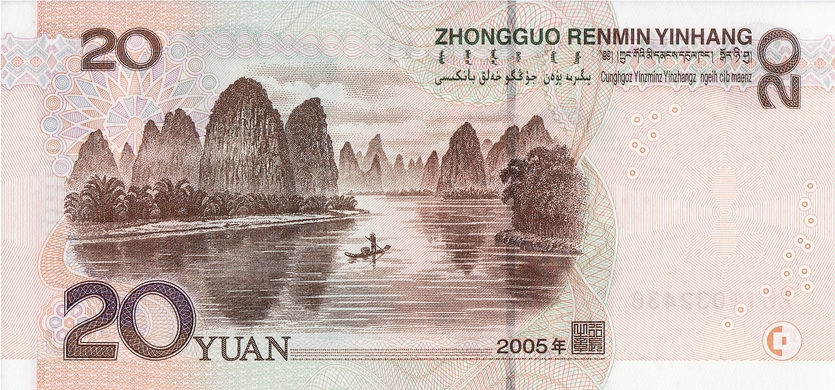 There is a 3-star boat going from Guilin all the way to Yangshou over the Li river. But this is a 400RMB (51 euro) return trip. I don't need a return trip so this is a bit pricy for a one-way. The boat is equipped with some basic facilities and serves food on board. It has tables and seats to enjoy the view over the river. Besides those 3-star boats there are also smaller and very simple boats, bamboo boat it's called. I was in the assumption that these boats also go all the way from Guiling to Xingping and further to Yangshou. But this is not the case. I learned that after visiting a few travel agents who all offered a deal with a bamboo boat but just a small trip on the Li river. The rest of the trip you travel by bus. Back in my hostel I decided to book the ticket for a bamboo boat to Yangshuo. I take the route: Guilin – YangDi – Nine horses hill – Yangshuo and it costs me 200RMB.
The way from Guilin to YangDi isn't that much interesting. I leave Guilin in the morning around 10:30. I'm picked up by a bus and it's just an hour to Yangdi. Around 12:00 we arrive in YangDi. When we leave the bus we get jumped all over by locals who try to sell all kind of goods. From foods and drinks to garland and waterguns. It's hard to ignore these street vendors since they are pretty persistent buying from them. From here we travel further by bamboo boat to Nine horses hill. Well bamboo boat? Its not really a boat, its more a raft you sitting on. Which doesn't make it less adventurous. This is the more interesting part of the journey. I end up on a bamboo raft with 3 other Chinese tourists who don't speak English and are also not attempting to. So my ride on the Li River is a nice calm and quiet one. It reminds me on the boat tour I did in Ninh Binh. Limestone karst mountains on both sides of the river. A peaceful scenery and nothing more to hear than the engine of the boat. The driver himself also doesn't have much to talk about. Neither about himself nor about the scenery we are in.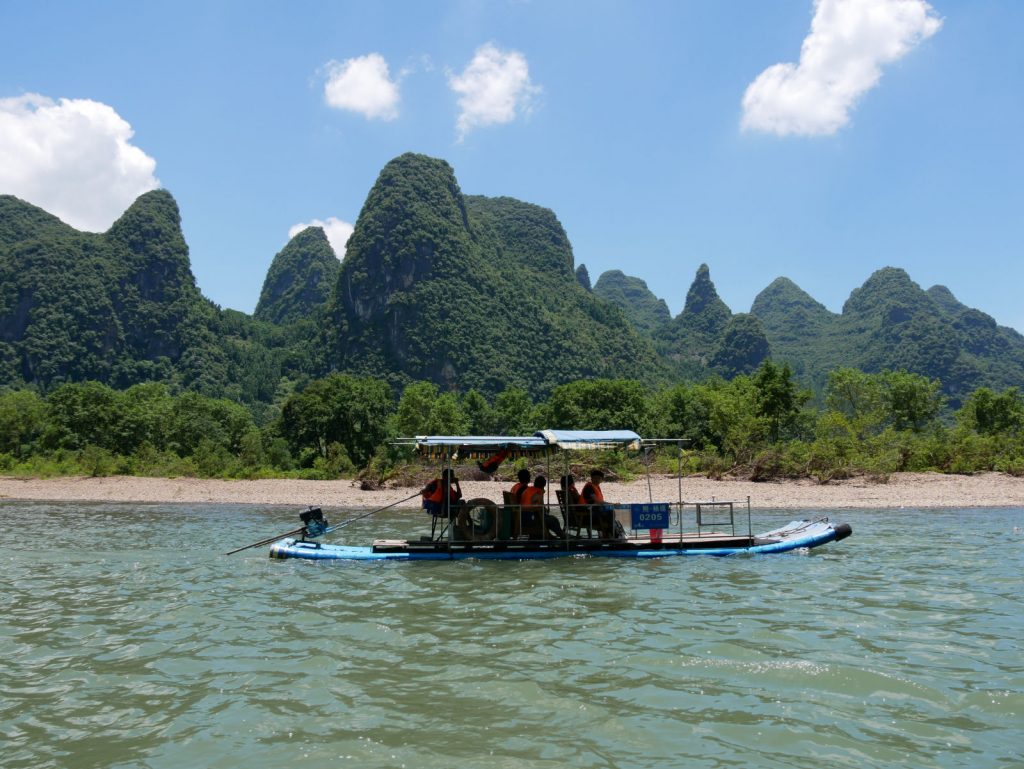 After a short hour on the raft, I arrive in Nine horses hills. To be honest that trip on the bamboo raft was just enough to enjoy the scenery and not getting bored. The raft doesn't go all too fast and its just mountains you keep on seeing. So honestly I'm feeling contented with myself to pick this trip and not a full river cruise from Guilin to Yangshuo.
XingPing is a small village I was interested to visit and stay in for a few days. But when I'm walking around I find myself among a lot of tourists. Crawling through the streets near the river and taking boat tours on the river. Traffic is bad and congested. The roads are dusty and the weather is super hot. I thought this was an authentic small town. This doesn't match my impression I had from it and no way that I want to stay here for a few days.
Since I'm heading for Yangshuo and the boat trip Nine horses hill, my bus is waiting at the busstop. From XingPing to Yangshuo it's a short hour by bus. I haven't booked any hostel yet in Yangshuo because I have no idea where exactly the bus will terminate. The bus stations seems a bit far away from the city. We arrive in Yangshuo a bit outside the center but close to the Li river. It takes me a good 2 minutes to find a hostel when I get off the bus and it turns out that hostel is 5 minutes walk away. My dorm room is on the 5th floor. So I will have some exercise everyday to go up and down, since there is no elevator. But the good thing is, an extra stair up from my room and I have this view: