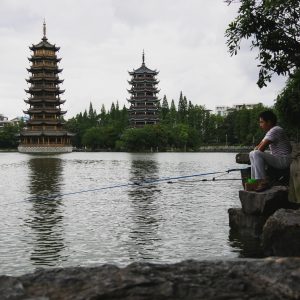 I'm in Guilin already for a few days and there is not really that much interesting to see inside the city itself. Of course there is atleast something. There is Ronghu lake with quite interesting bridges. On the other side is Shanhu lake with two pagodas, twin pagodas called the Sun and the Moon, located on the shore. And finally there is Elephant trunk hill, Xiangbi mountain. A hill in the shape of an elephant. A ticket to enter the hill costs 70RMB (almost 9 euro). I do find that quite a lot of money for just walking up a hill and imagining yourself its an elephant. I skip that tourist trap. Sure, there must be other better tourists spots, but outside the city center.
I decide to go to Daxu. Daxu is a small town outside of Guilin and is famous for its ancient town. I want to travel there as low budget as possible and decide to take a local bus. Bus 9 in the direction of Qifeng Road East. After a little search I find the bus stop for bus 9 and also into the right direction. 20 minutes later the bus arrives. I ask the bus driver for the price to Shijiadu Bridge. Reading his facial expression, he clearly doesn't understand what I'm saying, but luckily I made a picture at the bus stop of the bus schedule with all the stops.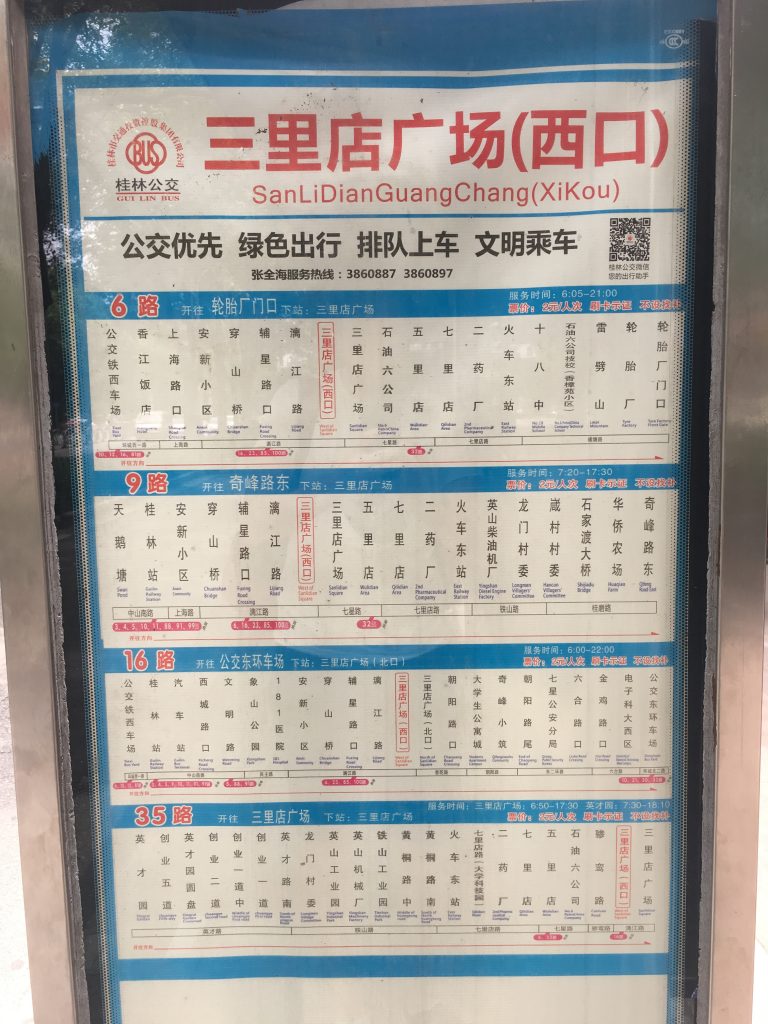 He put up two fingers in the air, giving me the correct impression the price is 2RMB (0,25 euro). I want to give him a note of 10RMB and hope for some change but that's not how it seem to work over here. I have to pay the exact amount for my ride. I luckily do have 2RMB and want to give it to the bus driver. He points to a cash collector near him. I need to drop the money in it and that's it. No ticket is given.
During the ride I keep an eye on the maps and near the Shijiadu Bridge the driver stops. I get off the bus. I'm in the middle of nowhere just across the bridge. It's a wide empty road no food stalls or taxis to see. I decide to walk down towards the riverbank hoping for people so I can ask the way to Daxu. Because from here it's another 4km to Daxu. Before I left off this morning I read some Tripadvisor reviews and other blogarticles on how to go to Daxu. At first I thought to follow those but they all have a slightly different version of travelling to Daxu. One of the blog did describe the route I am following now and said I need to get off at this bridge and from here take a taxi. Its 12:30pm and I'm walking near the riverbank when an old Chinese man is calling me. At first I think he just wants to have a chit-chat, till I get closer at him and I discover he's standing in front of a restaurant. O well… why not? I'm hungry so lets try to have lunch first before go further to Daxu. In my most simplified English and pointing to big pictures of food I pointing out what I want to eat. A cook from the kitchen is called to assist taking my order. He does speak a bit of English. Not the best, but its better than nothing at all.
The lunch is more than enough for just me and while eating I had a great overview on the river I just crossed a while ago by bus. I ask the old man for the bill and for the way to Daxu. He points towards the road, making a right hand sign, and start off in Chinese to explain me the way to Daxu. I have no idea what he is saying. He uses the table to write down Chinese characters with his finger supported with what he is saying. I do nod like I get him, but of course I don't.
When I'm at the counter to pay for my lunch I find the cook who helped me taking my order. I hope that he can explain a bit more about the way and ask him for the way to Daxu or the possibility for a taxi who can bring me. He offers me to bring me to Daxu with his tricar. I accept the offer and so it happens that I'm brought to Daxu by 3 wheeled car with a Chinese cook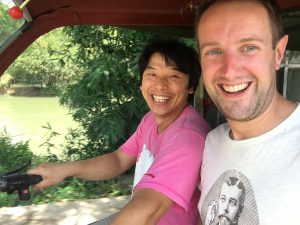 Through grassland, narrow roads and a small village we reach the main road in Daxu. It took us less than 15 minutes. I thought the main road would cross ancient town, but it seems not to be. A little bit confused I let the guy drop me off here and we say goodbye to each other. I walk around through Daxu and for a moment I even think I'm in the wrong town, till I have this bright moment of walking to the river and see if there is the ancient town. Yes! it seems so.
It's a Friday midday and the street looks pretty dead. I can count tourists on 1 hand. It does f looks ancient because of the wooden houses on both sides of the road. An old stone bridge connects the two sides together. Gates on both sides of the street. The street itself is unevenly paved with stone rocks. Its an interesting spot to see, but you can visit everything within 2, maximum 3 hours. After walking up and down the street, seeing some architecture, style of buildings I start to figure out my way back to Guilin.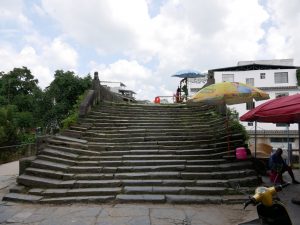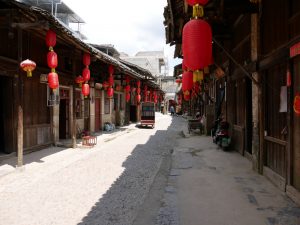 When I arrive back on to the main road I wait at a bus stop for a bus in the direction to Guilin, I don't have to wait that long. 5 minutes later the first minibus shows up. The bus slows down and I ask the woman on the bus simply the question 'Guilin?'. The woman nods and welcomes me on the bus. 'Shi kuai'. She says, supporting about what she just said with raising up 4 fingers. Since this isn't really a local bus and the bus goes directly to Guilin I assume she meant 40RMB. I start to draw out two 10RMB notes from my wallted but she makes a disapproval sign. 'Have some patience', I'm thinking myself and want to look for another 20RMB. She kept on saying 'Shi kuai'. 'Four!' ow, four?! I give a 5RMB note and get 1RMB back. It was 4RMB for the bus back to Guilin. This is learning Mandarin on the way. I'm glad she didn't just rip me off as she can clearly she I'm a tourist and I was assuming she was asking for 40RMB. Half an hour later and twice the price as for the local bus I'm back in Guilin coincidentally at the same street as where I left off.
I have to say that travelling and getting myself around to the location I wanted to be was more interesting than the walk and sightseeing itself I did in old town of Daxu. This day was well spend.