I packed my stuff and left home again. Its time for my second part of the trip. After 27 hours of flying and partly spend on airports I finally do arrive in Guangzhou. I booked the cheapest ticket from Amsterdam to Guangzhou, and had a stop in München and Muscat. I arrived in Guangzhou in the evening and my friend waited me up on the airport. The first week in Guangzhou was more a week of relaxation. I stayed in a nice place and had all the comfort and luxury.
On the first day I walked around Guangzhou and I felt I was in some modern westernised city. Tall building, wide roads, quite clean and organised infrastructure. How could I have been mislead on what I've seen on the airport a few months ago? Also when I arrived on the airport the night before everything was quite organised and smooth. No hectic scenes, nor shouting staff. I felt pretty comfortable in Guangzhou, although it wasn't a very interesting city, everything was around. The second week was meant to discover a bit more of China outside of this side. After one week I left off to Guilin and Yangshuo. I arranged a train ticket to Guilin and decided to see that area a bit.
On a Wednesday I'm off to Guilin. I take the metro from Shipaiqiao to Guangzhou South train station. A 45 minutes ride by metro to reach the train station. Before I arrive there I visualize myself it's a moderate sized train station, maybe more or less than 10 platforms and easy accessible platform. However, when I arrive in the station it looks huge! There are 28 platforms and 3 levels. It feels like I arrive on an airport. I did arrive one hour in advance and that turned out to be a wise decision. When I arrived on the train station it took me already 10 minutes to find the ticket counters, they were located at the side of the station. There are a lot of ticket machines, but the queue for those are also long and everything seems to work in Chinese. I choose the counter instead.
I need to show my confirmation number and passport and the ticket is printed out for me. That went quite smooth. When I'm looking at the ticket everything is in Chinese. So it takes another few minutes to figure out what it all means and which platform I need to go to. Google Translator is a great tool for this, since it has an instant translating option for Chinese to English using the camera on the phone. Its awesome, but for that to be able to use you need a VPN.
I find my platform: A26. On ground level I walk to the platform number. There seem to be people waiting in front of the stairs which goes up to the platform, but there is a fence and it is closed. I ask around if this is indeed the correct platform for Guilin. But I don't get a confirmative answer. Not many people seem to understand or speak English here. While time is ticking and I've 20 minutes left till train departure, the fence remain closed. I start to doubt if this is really the way to the platform and walk around. Since it seems to be difficult to ask for help I ask Wikipedia and this tells me about the layout of this station.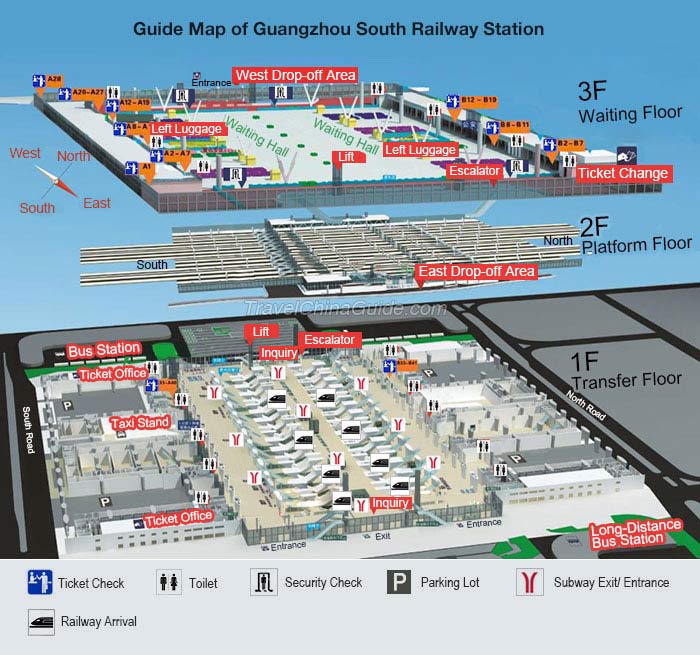 Ground level turn out to be arrival. On the first level are the platforms and second level is for departure. It seems I need to go to second level than and find a stair. There is a ticket control before you are allowed to departure level. I go through this checkpoint and when I'm on departure level there is an x-ray for luggage before you can proceed further to the gate of the platform. This indeed looks like an airport. 10 minutes before departure I'm facing the gate to my platform. Here I only get access to the platform by scanning my ticket at the gate. There are a lot of people waiting, but not sure if they are taking the same train. I decide not to follow their behaviour but scan my ticket. The gate opens, and I can walk down to the platform on first level. The train already is waiting and I without problems I find my coach and seat number.
I'm not even sitting for 3 minutes in the train or the doors are closing and we are heading off to Guilin. According to the clock on the platform we are leaving 2 minutes ahead of schedule. I'm glad I found my train on time.
I have to say the train ride is pretty comfortable. There is an AC and every stop is announced on the speaker and by a LED letter sign above the couch doors.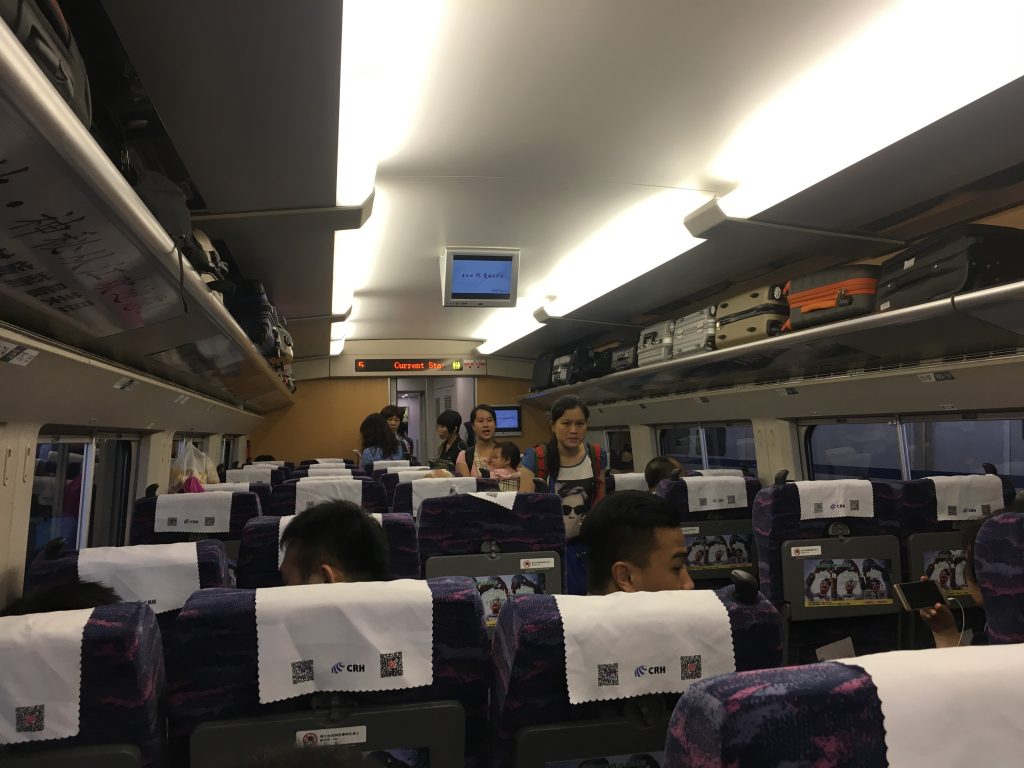 After a smooth and comfortable 3 hours ride I arrive in Guilin. Guilinxi says my ticket. I didn't pay much attention on that word, till I arrive at the station with the same name. Guilinxi doesn't exactly lies in Guilin city. Guilinxi means Guilin west. I check my map. I'm 14 km out of the city and there is literally nothing around except taxidrivers. Shit! And they all come for me of course. I wasn't prepared for this. In my perception the train station would have been in the center of Guilin and I would be able to walk to my hostel. I booked a bed at Guilin Greenforest Hostel and should be near Guilin train station. There is no other way to go to the hostel than by taxi. There is a public bus, but I have no idea what route and on what time schedule it run. I decide to take a shortcut and go for a taxi. With some local translation apps, no Google Translator, the taxi drivers ask for my destination. I have to speak English in their phone to translate it back to Chinese. Quite interesting to communicate like that. I get a taxi driver who is willing to take me all the way to the city. Eventually it takes me an hour to reach my hostel. The driver seems to like a specific Chinese song and it is on repeat mode for almost half an hour while he is humming with the song. I almost want to kill myself but decide to focus on the best part of this ride, and that's the view outside.
I finally reach the hostel and the meter indicates 98RMB. It would have been 20RMB less if the taxi driver did drop me off on the other side of the road so I would cross the road to the hostel myself. Instead he decided to drive further and make a U-turn. Just a few hundreds meter get stuck in traffic and took me another half hour while the meter keeps running. I pay the driver and get out of the taxi. I walk towards my hostel as where it would be located according to the map. For a moment I'm hesitating. Am I on the right spot? I see the sign of the hostel, but is the hostel itself still operating? When I look at the exterior it looks all shabby and not maintained. It could use some paint. Even the pots and the plants on the stairs up to the front door looks depressive and half dead. Is this hostel still open? When I walk up I get my answer. There is someone sitting at the reception. I get in, book a bed and pay 30RMB for one night. One bed in a 4 bed dorm room.
After I got into the room I just plump down on the bed. Ouch! Holy shit! Where is the matrass? I feel a hard wooden board. It seems I have a mattress but its not more than a 6 cm thick foam on a wooden board. Sleeping on it will be interesting. Well, to be fair, this is what I wanted to experience. Basic backpacking, basic hostel. Welcome in Guilin.