Two weeks I was in Bangkok. I came here to experience Songkran. The Thai New Year water festival. I decided to come one week before so that I have some time to get used to this crazy city. Bangkok for me was the city of sin. Having watched the movie The Hangover, and also heard stories about lady boys, ping pong shows, crazy scene for going out, I imagined all my senses would go oblivious. But what I was surprised when I arrived. At 1 o'clock in the night I took a cab from the airport to my hostel, no traffic jam. Arriving at my hostel I noticed it was located in a quiet neighbourhood. Did I book it right? Am I too far from the city? On forehand I decide to book my hostel in Bangrak area. Near Silom road. From different backpackers blogs I read that the place to be is Khao San road. At first I looked for some place over there but decided that Silom would be nicer for upcoming Songkran.
Yes, I did touristic activities the first few days. I took the Chao Praya Tourist boat and went to Wat Arun temple, Wat Pho, Golden Mountain, Siriraj museum. Walked over Khao San road, go to Ratchawongse, see China Town, the flower market, Chatuchak market and Lumpini park where everybody seems to workout after another tough and stressful day after work.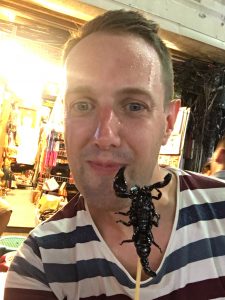 Later on I went out on Khao San road in the evening. What on earth is this? Being so dull during the day, It looks like Salou party streets in Spain during European summertime. Youngsters all over the place with buckets full of mixed drinks. Loud, very loud music. Unable to have conversations. And insects to eat. Yes I did eat scorpion. They seem to be one of the attractions on Khao San road. So I had to try one. I only stayed in Bangkok and didn't left the city. In the first weekend I thought about going to do Couchsurfing. When I found a host it turned out he was staying 10km away from Bangrak district. 'That's far!', I thought, and decided not to go. Later on I realised that Bangkok is quite immense. I walked a lot. No matter what time of the day. I found this nice cooling towels in 7-eleven. Which were so helpful to cool me down and wipe off the sweat which just literary dripping off from my face. When people saw me walking on the street they might have thought I was running a marathon. It's not just hot at the hottest moment off the day, Its hot all the time. 9am it is hot, 11am it is even more hot, 2pm it is hottest. 6pm is cooler but still hot, and 1am it didn't cool down that much and also still hot. It just never seems to cool down below 30 degrees.
I spent time with amazing people who showed me around the city, but also brought me to their places. Having an awesome view over Bangkok, meeting more people, meeting friends of friends and realizing it's small world after all. Enjoy some relaxing time in a swimming pool on the 6th floor of a condominium tower looking over Thun Buri district.
The primary reason to go to Bangkok was to experience Songkran and I was counting the days for the first festive day to start. I wasn't quite sure how wet you would get during Songkran. I knew about Khao San road and Silom road to be insanely covered with water guns, water hoses, buckets cold water, and people getting soaked up wet. But do people get wet outside these areas? I found the answer, and in short its 'Yes!'. During those days don't dress up, lock your money and phone in a waterproof bag and wear flip-flops. You are doomed to get wet.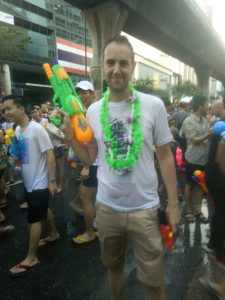 The first day of Songkran we went to Khao San road in the late midday. There were a lot of people. There was no music and seemed a bit dull. The Thai Government wasn't completely clear if Khao San road would be open for a water fight. There was no music, all in respect for King Bhumibol's dead. But still, everybody on the street wetting each other with water guns and pouring buckets of water on each others head. Most of the water is warm. Tapped water is just warm in Bangkok. But some people used cold water right from the fridge. I have to admit it was not a punishment to get wet. The weather is hot, the sun is out and when standing under the sun you dry up quite fast.
The second day when we went to Khao San road in the late morning it was packed! Tough I was afraid there would be nothing going on. There was a great atmosphere and so many people gathered there under loud music making each other wet. It was a complete outrageous crowd. It was awesome. After walking over Khao San road we decided to take a walk, dry up a bit and go to Silom road. The distance between Khao San and Silom road is around 7km. Quite a walk, so we decided to take a tuk tuk. Those tuk tuk drivers must have the best day of the year for their turnover. Because taxis don't take wet people around and a lot of people still need to travel they ask exorbitant high fares. 300 baht for 7 km. We weren't plan on paying this. Haggling is somehow in the Thai culture, declining the ride and walk away immediately isn't what they would expect from you. Instead they are waiting for your counter offer. '300 is too much, 100 baht!' We respond. Leaving it up to the driver to come with a response. His argument that we could split the costs between the two of us, wasn't working. We stick at 100 baht, till he dropped till 200 baht on his side. Eventually we agreed the price on 120 baht for the ride. Which still seems a lot but more reasonable. While the tuk tuk drives off with us and a cool breeze runs through your hair, enjoying the moment you're drying up, you will never know what happens around the corner. Kids waiting out there with a bucket full of water will sweep it in your face without any merci. So it happened to us as well. Out of nowhere there was a wall of cold water made us completely wet. Leaving the tuk tuk driver laughing at us, because he remained dry.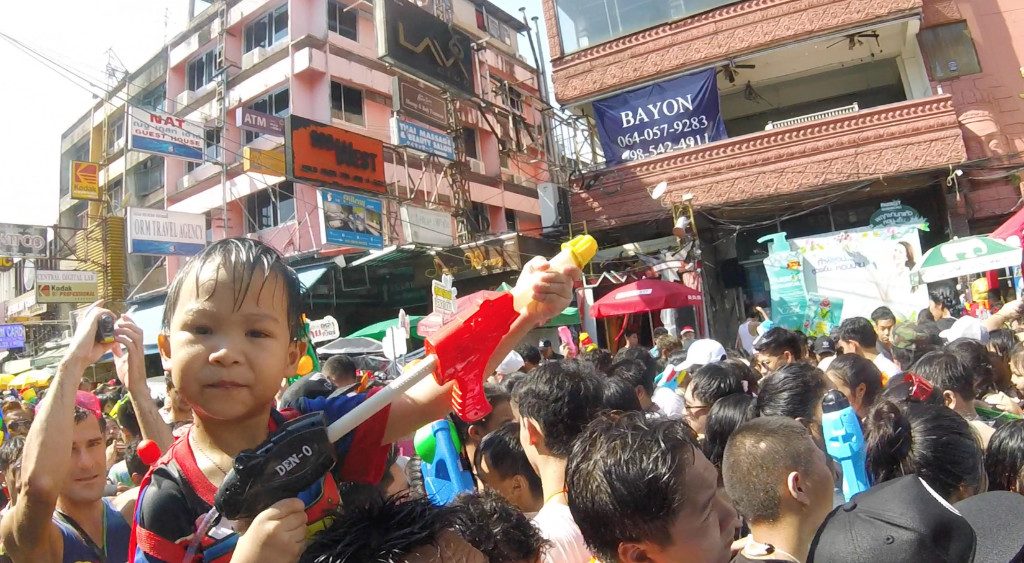 Talking about emotion, I didn't see anyone getting annoyed or angry during the water festival period. I know it's a habit of Thai people not to show emotion in public, but I might imagine some people don't want to get wet and try to avoid all the water. Everyone kept on smiling. I think the best way to survive these day all dry is to stay at home and don't go out.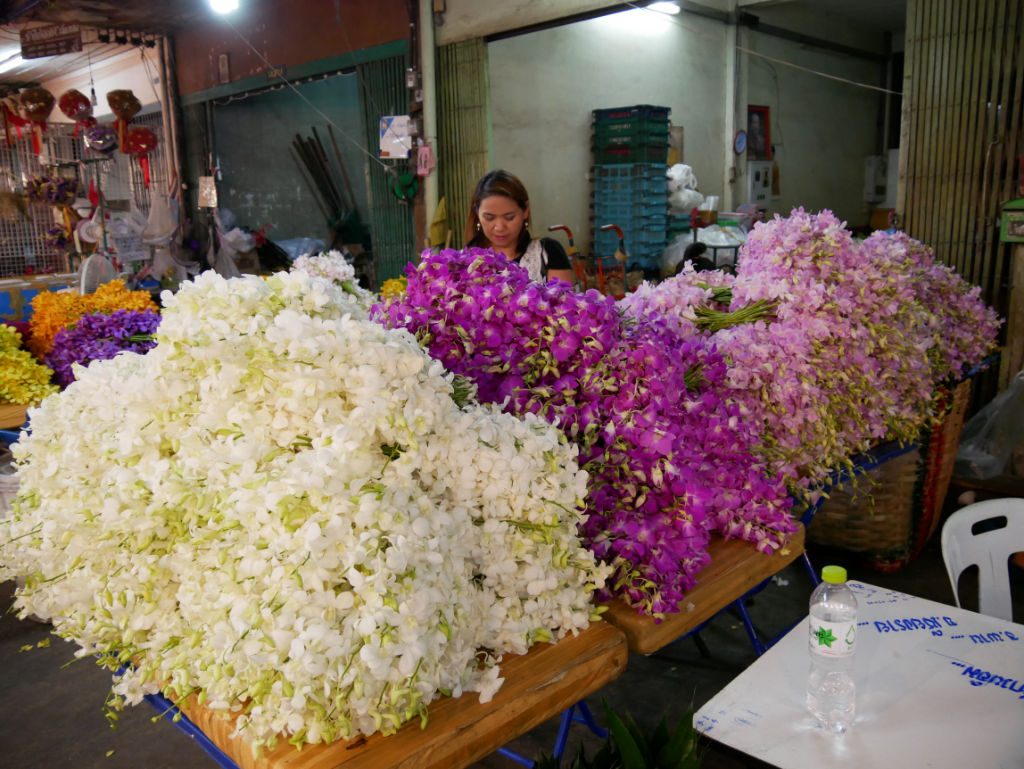 It was my first Songkran and it was amazing for what I've seen and experienced on the street and with the people I was. Now I leave Bangkok behind for Indonesia and will come back some other time. After all I've only seen Bangkok while I really want to see the rest of the country as well.