Last month, on the 8th of March, I arrived in Hanoi, Vietnam. Starting this whole new adventure of travelling around. Such little things I did plan in advance. With a little excitement and anxiety I started this trip. I had completely no clue on how my trip through Vietnam would look like. Yeah, travel from North to South, that was my plan, I told everybody. But that was as how far my planning went. What I really was going to do in between Hanoi and Ho Chi Minh city, I had no idea. So many suggestions and recommendations I received.
In the end I didn't completely travel on my own. I met great people on the road and locals who were able to bring me to places I normally wouldn't have found, or not found in such a short time. People who also helped me out with things as simple as getting a bus or train from one city to another. I don't think it doesn't make the trip less adventurous when you get a little help on the way. It actually makes it more realistic since you can experience by how the locals arrange such things.
Arranging a trip from one city to another could be fairly simple if you stay in a hostel. The hostel can arrange transport for you and that one will pick you up on the designated date and time. Some of my trips went like that. Nothing to adventurous going on over there. You now when you are picked up and where they will drop you off. More hardcore it was when I was in Ninh Binh. My friend Minh arranged a local bus, Hoang Long Bus, between Ninh Binh and Dong Hoi. The bus was suppose to pick me up at a petrol station near the highway, slightly outside Ninh Binh at 12:00 o'clock in the midday. Since I was checking-out early at the hostel and Ninh Binh city itself wasn't that special to walk around the rest in the morning, the hostel arranged me a taxi who dropped me at the petrol station at 10:00am.
There I was, near the highway, nothing to do, waiting on the side of the road for the bus to arrive at 12. The petrol station was a very basic petrol station without a shop. 30 meters away from it there were local people sitting near a food stall and that was basically it. Me waiting there, as the only white guy for two hours, not able to communicate with the locals, since none of them spoke English. That moment when I tried to speak English to explain which bus I was going to take, using a bit of hand motions to support my English wordings didn't also work out. When I showed my ticket they nod and it seemed they understood my presence. Besides all this, Vietnamese use different hand motions. While I tried to support my English with a lot of hand motions, the Vietnamese people in return will just speak Vietnamese. Makes you wonder that they think you can understand the language, but not able speak. I learned that morning that buses didn't stop at the petrol station. Every now and then during those hours I waited, people showed up taking a bus. The bus would approach, but won't stop. Instead it release the gas handle, drives slowly and it's a hop on/hop off situation. I all happens in less than 10 seconds. Using the claxon the bus announce it's gonna speed up, and there it's gone. My friend did text me the license plate on the bus to look out for followed by the news that the bus was delayed for half an hour so should arrive between 12:30 – 13:00. Here comes in the language barrier again, because normally, local people would be in contact with the bus by phone. But the bus assistent didn't spoke English nor had I a Vietnamese number to call with. So everything went via my friend. There I am at the side of a two lane road, reading license plate numbers for almost half an hour. Every bus looks the same for me and sometimes I would miss reading a license plate of a bus because they are behind another car or big vehicle. How on earth am I going to take the correct bus here?!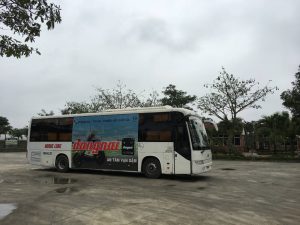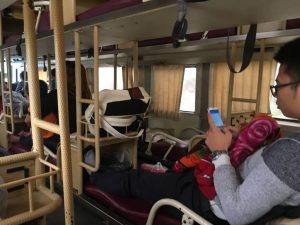 When it was almost 13:00 o'clock I texted my friend with the question if the bus was almost here. He replied with the message that the bus just passed but didn't see me. The driver was friendly enough to make a U-turn and try to pick me up again. That's great! but how could I've missed it? And how would I've done this without any help from a local guy? Finally I did see the bus coming, and signalling with his lights, he announced his arrival. Boarding did all happen in less than 10 seconds and we were on the way. The bus ride itself wasn't comfortable since the bus was a sleeping bus with beds, which of course does fit the Asian size but not the Western people's legs. I'm so happy to have a smartphone in my possession. Such a great device with GPS to track exactly where you are. When I arrived at my destination I knew it was time to get off.
My first encounter with the bus was the day I arrived in Hanoi. I took the public bus straight to the city which worked out great. When I came back from Sapa I arranged my stay with a couch host in Hanoi. He instructed me to take bus number 2 to his place. It was already 21:30 in the evening and the bus service would last till roughly 22:30. It was a race against the clock to find the correct bus stop. Not knowing how to exactly read the bus information I took bus number two but into the wrong direction. The bus assistent there also couldn't speak English and with a gesture that my bus would be on the other side of the road and a arm gesture making a cross, telling me that that line already closed down for the night there was another challenge to go somewhere.
Uber and Grab are very common here to use. And it's so easy to use. Just take your phone, open the app, tell it where you want to go to, choose a scooter or car, and within 5 minutes there is a taxi in front of you to pick you up. I used Uber quite a lot when I was in Ho Chi Minh City. Such a big city to go around. Don't use a car taxi over there! Using a car is very convenient because you stay away from all the smog, but in this city it is the slowest way of transport. I called many times for Uber Moto which will pick me up, and with a helmet bring you to every corner of the city. No need to bargain about the price or pay in cash, since thats already fixed by Uber and paid by creditcard transaction. Just hold on tight either on the driver or the scooter. Because it can go rough!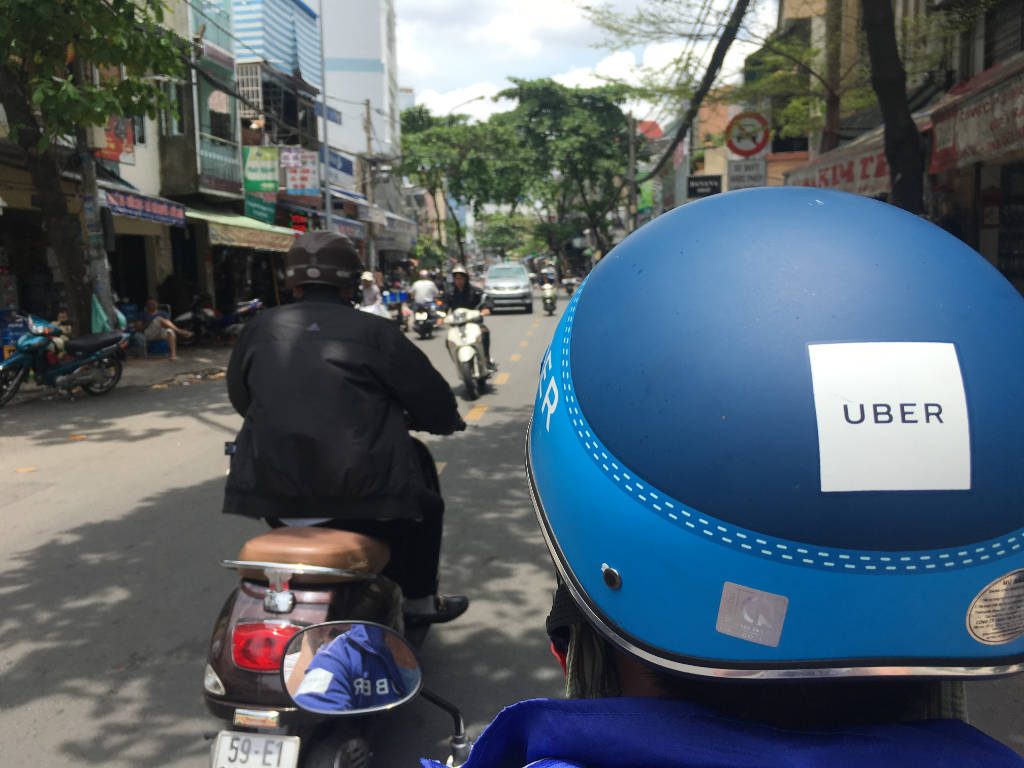 So now I made it to Ho Chi Minh City. I was in Hoi An last week when I realised I only had one week left for the south part of the country. Vietnam is treating me great with everything it has, but I was not looking forward to travel by bus or train to Ho Chi Minh City while covering all the cities in the south within a week, I decided to break my travel in Hoi An and go straight to Ho Chi Minh by plane. I met up with awesome people during my stay and for sure I will see some of them again. Here I am now for 5 days. For now I'm taking it a bit easy. Not need to travel and check-in/out on a hostel every few days. Tonight I'm off to Bangkok. As for every city, I've no idea what it will bring me. But this is the adventure of a traveller.