After Hanoi and Sapa my next destination would be Ha Long Bay. Its a UNESCO World Heritage site. The bay features thousands of limestone karsts and isles in various shapes and Reading information about Ha Long Bay I learned that the scenery also was used for the movie 'Kong, Skull island', which is currently running in the movie theaters in Vietnam. A lot of scenes in the movie were shot on different locations throughout Vietnam. Besides Halong Bay, Tràng a'n and Tam Coc in Ninh Binh and Phong Nha near Dong Hoi. While I originally planned to go to Halong bay I unfortunately had to change my plan due to the weather. This wasn't all the best in the north. It rained quite a lot, so I decided to go south with the hope that the weather would be much better over there. Travelling south from Hanoi, Ninh Binh would be the logical next stop.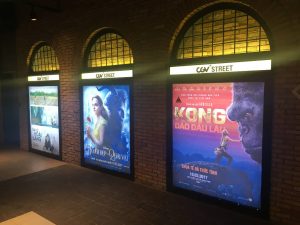 Seeing the movie posters around in Hanoi and reading what-to-see blogs about Ninh Binh, also mentioning about the movie, I became curious about it and wanted to see the movie 'Kongs, Skull island'. Not that I would know what to exactly spot in the movie but it's nice to get an impression about the scenery. The night before I head off to Ninh Binh I went to the CGV cinema in Hanoi.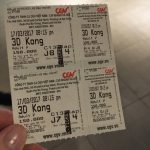 Right before the movie started the director Jordan Charles Vogt-Roberts made a short word of gratitude. Thanking the people of Vietnam for the opportunity to shoot this movie on the different locations, the cooperation with the local authority, the delicious Vietnamese food and hospitality of the Vietnamese people. The movie was, well, entertaining like a Hollywood movie tend to be. And although I did see the island in the movie, consisted of mountains, rivers, caves. Seeing the overview landscapes I didn't know how to place it exactly.
I arrived in Ninh Binh. Yesterday I came here by public bus from Hanoi together with Minh. Minh showed me around in Hanoi and was willing to do the same in Ninh Binh. A ride of a short two hours. It's early morning and we are having breakfast. As it goes for most hostels here, breakfast just consist of some slices of white bread with scrambled egg. Today we will visit Trang an. At the hostel it's possible to rent a scooter. A full day rent costs 120000 Dong (4,85 euro). Not too bad, and we need to fill up the gas yourself. We agree that I will ride the scooter. I never rode a scooter before. In The Netherlands I used to ride a bicycle, and I do have a car driver license. Riding a scooter doesn't seem difficult, especially an automatic geared one. It's easy to learn how to ride a scooter on a quiet road. It's also easy to just drive straight ahead, following other vehicles. But when it comes up to a busy street with other scooters, motors, cars, trucks and buses and you need to turn left while traffic is also approaching ahead of you, it all the sudden is a different level of driving. Minh feels a bit scared on the back while I'm driving. Well, now he knows how I felt when he drove me around in Hanoi, but well, I will save this experience for another blog. Luckily the road to Trang an is quite wide, 3 lanes. Mainly one long road without turns or busy intersections and there is barely traffic. So enough time to master my driving skills for the scooter. When we arrive in Trang an, it is a bit of a challenge to stop and drive slowly to the motor parking. But I manage to get there without hurting anyone or anything including myself.
After getting the entrance ticket for Trang an you can choose a route. Two routes are available both covering temples and grottoes. While we are waiting for the boat I notice that it's pretty quiet. It's only 10:30 on a Saturday morning. I don't know. Maybe it's really off season. There are small boats with mainly female paddlers. Together with two other tourists we head off, our boat being peddled by a female peddler.
I notice that some peddlers on other boats rowing with their feet. Like they are riding a bike. Using the paddle as a pedal. I'm amazed how they can do it this way. Ahead of us there are some other small boats. It's a bit foggy and clouded. With some breeze over the water it even feels a bit chilly. It's so nice to float through the water and don't hear much more than just the paddle in the water and some birds in the trees. The tour brings us over the river through caves to temples where we stop and take a look. We get pointed out some shots from the movie. For example where the local people on the island lived and where the bloody hand print of Kong was placed on the edge side of a mountain. Having the movie in mind and being around on this amazing spot is a really cool experience. I try to imagine how it would look like if gigantic creatures really existed and were living here. If you not have seen the movie you won't enjoy less. It'd truly a peaceful and amazing trip to make. I betray myself that I try to make pictures and record videos of the view all the time. But I should stop it and just enjoy.
After 2,5 hours we are back. When we arrive at the final stop to board off the boat the water is packed with other boats and their sailors. So many boats lining up over here. There are hundreds, waiting to bring tourists around. Back to the entrance we see a lot of people queuing up to go out for a sail. We were right on time here this morning.